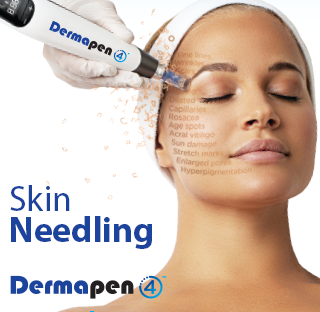 Skin Needling with Dermapen4
Turn back the clock and and transform your skin! Dermapen is the world's leading skin needling device. It safely and comfortably instigates collagen induction through the delivery of micro needles into the dermal levels of your skin. Tiny incisions from these needles cause 'micro injuries' to your skin and encourage your body to repair and re-grow new skin through collagen production.
The Dermapen procedure is suitable for all skin types and promotes scarless healing through completely natural collagen production. Delivering similar results to fractional laser resurfacing, IPL or chemical peels your skin will heal quickly without side effects and almost no down time. Perfect to use alongside or as an alternative for cosmetic injectables. Addresses an array of skin concerns including: acne, stretch marks, scarring, open pores, fine lines and wrinkles or general skin refining and rejuvenation.

Price: Full Face: $250
Neck and Dec: $300
Face, Neck and Dec: $400
How many treatments will I need with Dermapen?
Facial rejuvenation: 4-6 treatments at intervals of four weeks.
Acne Scarring: 6-10 treatments at intervals of six weeks
Stretch Marks: At least 10 treatments at intervals of six weeks.
With all Dermapen therapies pre pay for 5 treatments and get your 6th for FREE!
We recommend a FREE consultation prior to any skin needlig procedure as this will enable us to prepare the best coarse of treatments for your individual skin concerns.
Skin prepared with cosmeceutical skin care prior to commencing any Dermapen treatment will benefit greatly. Appropriate preparation will allow for better product penetration and reduce down time.
Dermapen treatments are designed to be performed as a corrective course of treatments for optimum results, and can be combined with medi facials, LED or IPL. However 'one off treatments' are welcome too

ASK YOUR THERAPIST TODAY HOW DERMAPEN TREATMENTS CAN HELP YOU!