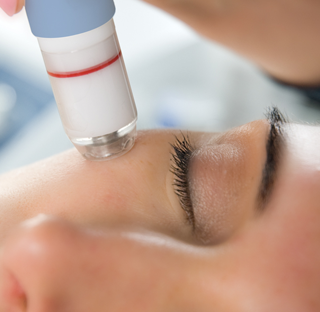 Hydro Micro Dermabrasion
This advanced machinery redefines a new standard in comfort and results from microdermabrasion services. This treatments utilises a unique cooled diamond tip exfoliation coupled with AQUAFUSE hydrodermabrasion, vacuum stimulation and complete serum infusion:
Crystal free
No clogging
Suits all skin types - comfortable / non irritating
Hydrating - Unique action hydrates the skin
Multifunctional technology - Combines liquid cooled diamond peeling, hydrodermabrasion, AQUAFUSE vacuum stimulation, and product infusion
Is hydrodermabrasion right for me?
Hydrodermabrasion is perfect for all skin types and is wonderful for dull lacklustre skin. Also perfect for age management, fine lines, and wrinkles. Mild to moderate acne including mild acne scarring. Plus evening skin tone and hyper pigmentation.
Bio-Hydroderm™ Facial
Hydrodermabrasion combines crystal free microdermabrasion, vacuum technology, and strategic product infusion to provide a gentle and effective exfoliation that leaves skin visibly soft, radiant, and glowing!
Bio-Hydroderm™ Acne Facial
This gentle and effective facial combines powerful microdermabrasion technology with soothing and hydrating AQUAFUSE acne solution to fight breakouts, help erase blemishes, and leave skin radiant.
Bio-Hydroderm™
Hyperpigmentation Facial
Hydrodermabrasion will help erase the signs of hyperpigmentation in a gentle and effective way. Powerful diamond head abrasion combines with cutting edge ingredients to leave your skin smooth, glowing, and spot free.
$110.00