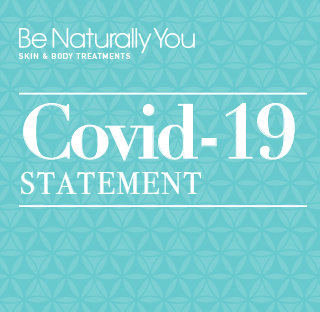 Covid-19
A brief update from Be Naturally You...
Effective from Saturday May 16th 2020
We are so excited to be able to open again under the stage 1 restriction easing and would love to share with you our COVID Safe plan.
Essential information/ what you need to know:
For record keeping purposes we need the following details from you to make an appointment: Full name, address & phone number.
If you feel unwell or have been in contact with COVID 19 please reschedule your appointment.
Please arrive on time to your appointment, if you're early we may need you to wait outside. Arriving late could result in your treatment being reduced. We have everything perfectly timed so that we have adequate cleaning time in between clients. Unfortunately this means we're not as flexible as usual with late arrivals or last minute add ons.
You will be required to use the alcohol-based hand sanitiser provided upon arrival to the salon.
We will have a short questionnaire to fill out with you prior to your treatment.
Please do not bring friends or family members to appointments, this is to ensure we are adhering to the limit of people on the premises as well as the square meter rules.
We politely request that you don't touch retail products unless you intend to purchase, if you need help deciding a member of staff will be in reception to help you.
We understand this is a bit to take in but it's only for a short time while we all adjust to the new normal! There is signage around the salon and our friendly staff are here to guide you! We thank you in advance for helping us to run our salon smoothly and contributing to a healthy, safe environment for everyone!

What we're doing:
As a part of QLD stage 1 requirements BNY will be adhering to the following conditions:
Social distancing rule of 4m2 per person (only 1 therapist and 1 client is permitted in the room together at a time)
We will not be accepting walk-in appointments. All appointments must be booked in advance.
A mandatory COVID Safe Checklist for Beauty Therapists & Nail Salons is adhered to and displayed on the premises.
All staff have downloaded the COVIDSafe app and we reccomend clients do the same.
Contactless payments are strongly encouraged.
Thorough cleaning will be undertaken on top of our already strict hygiene standards (please see below).
Prior to appointments, clients will receive a text with details of the new Covid conditions relevant to their appointment..
We will be checking in with staff every day to ensure they are healthy and symptom free.
All staff have completed the Australian Government Department of Health Infection Control Training – COVID-19.
Strict hygiene protocol is as follows:
Masks will be available upon request.
Therapists wash their hands or use hand sanitiser before and after treatments, between stations and between contact with clients.
Treatment beds are protected with single use disposable bed sheets. Towels used for draping are laundered after every client.
All high touch surfaces (including door handles, light switches, bench tops etc.) are cleaned and sanitised with alcohol wipes between every appointment.
All surfaces that clients come in contact with are cleaned with alcohol wipes between every appointment.
Anti-bacterial hand wash and paper towels are provided at a sink in the treatment room, this is available for both staff and clients.
There will be a member of staff on reception during stage 1 to wipe down all surfaces hourly and help with general client enquiries.
We ask that all clients please follow the requests of staff and salon signage. All of the above precautions are in place to ensure the protection of everyone who enters BNY so that we can continue to trade safely. Let's beat this thing so our lives can return to normal!
_____________________________________
With Love,
The BNY Girls xo